Live from #nn13 it's Environmental Action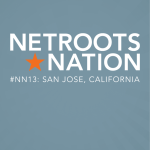 Last year, Netroots Nation literally changed my life. I try not to overuse that phrase, but in this case it's true. Getting the chance to go (though Democracy for American's Scholarship program) gave me access to a whole world of people using technology to change our real world for the better. And I couldn't help be changed as well. It is a rare chance to join a nationwide community, one that includes thousands of activists, elected officials and other difference makers.
And now, I'm back as your Environmental Action organizer to Netroots Nation. And I want to invite you to join us by watching along at home or following our updates online.
We are here because it's really important that the planet be part of this big, political, progressive discussion. The environment is not political, the earth knows no party. But the reality is we need a the help of this big, online movement to make the planet needs. The netroots Nation needs to hear from us if they are to fight polluters and politicians who want to divide us. What's more, our movement is a heroic example of how people + the internet can make change.
We emailed and facebooked to organize the largest climate rally in U.S. history last February. Across the country, digital petitions and actions are linking up local Fracktivists to fight against this dangerous and unnecessary drilling practice. Grisly images of America's war on Wolves were leaked first online – and galvanized millions of us to speak out for wildlife. And when Exxon threatened to sue any TV station that dared air our provocative ad Exxon hates Your Children, hundreds of thousands of people saw it anyway thanks to YouTube and Facebook.
Online tools are empowering, enlarging and clarifying our fight for the planet. And we're here to make sure they keep helping us win, and keep you involved in the conversation. We invite you to watch along through the Netroots Website – or follow the commentary from me and Drew on Twitter. We'll try and give you the best of the panels, conversations and actions that put the planet first. Thanks for being part of Environmental Action.